How Phone Therapy Works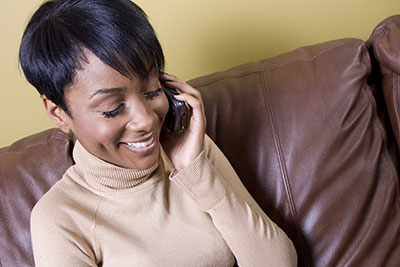 It doesn't get much easier than Phone Therapy. I call you at your appointment time and we do a therapy session. Phone Therapy allows you the flexibility of being almost anywhere. Because it's so easy, many people prefer to do Phone Therapy appointments instead of Online Video Therapy. 
One of the reasons people cite for avoiding going to therapy is accessibility and Phone Therapy can bridge that gap. Phone therapy can bring people to therapy who would otherwise might not go.
5 Tips for a Great Phone Therapy Experience
Bad audio quality and dropped calls can be distracting during a phone therapy session. Here are four tips that can improve call quality:
If you're using a cell phone, restart your phone before the call. Phone apps might be using memory and can interfere with the quality of your call. Restarting your phone will assure your phone's operating system is ready for the call.
Again, if you're using your cell phone, make sure you have plenty of battery power. You don't want to be half way through the session and have your phone go dead. You may need to use an auxiliary power bank to make it through the whole call. Also, if you have an older cell phone you may want to make sure the setting is on battery saving more.
Whether you're using a land line or cell phone, don't use out the phone on speaker. It makes it harder for the other person—in this instance, me—to hear you. A better option than using the speaker feature on your phone is getting a head set. With a good headset, such as a Blue Parrot, the microphone is right next to your mouth so the audio quality is good.
If you're worried about privacy during your phone therapy session, consider sitting in your car in a private place. This is particularly effective of you live with other people who could overhear you talking on the phone.
It's helpful with phone therapy if you concentrate on the therapy session and try to avoid doing tasks while on the phone. Many of have a tendency to multi-task when we're on the phone and this can really take away from the therapeutic experience.
For new clients only:
If you are a new client, I will e-mail you a link to a consent and health history form for you to e-sign. It must completed prior to our first session.
I've tried to make the process as easy as possible. Still, some people prefer to do Phone Therapy appointments instead of Online Therapy. I just want to give you the option for both.
If you have any questions about this process, please feel free to call me at (408)264-3082.
Best,