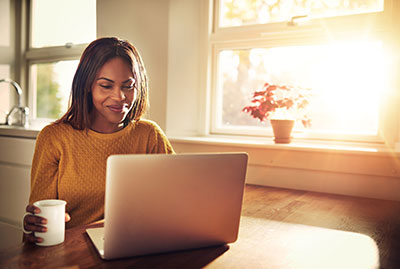 To answer the question, "Does online counseling work?" it's helpful to understand what it is. Online counseling is the provision of professional mental health counseling services through the Internet. Services are typically offered via email, real-time chat, and video conferencing.
Some clients use online counseling in conjunction with traditional psychotherapy, or nutritional counseling, and a growing number of clients are using online counseling as a replacement for office visits.
How is online therapy different from going to a counselor's office and getting treatment there? The main difference is that it's done via the web or telephone. Some basic functions and benefits of online counseling including:
Online counseling is conducted just like traditional counseling, only you don't have to come to the office.
Online counseling utilizes modern day technology: telephone and video conference.
Online counseling is still HIPAA-compliant, meaning your information is private and protected.
Online counseling offers many benefits, such comfort, convenience, and accessibility.
Online therapy is great for people who live in remote areas simply might not have access to any other form of mental health treatment because there are no mental health services in their geographic area. Online counseling gives these individuals access to treatment that they might not have otherwise.
Online therapy also provides accessibility to individuals who are disabled or housebound. Mobility can be a big issue when it comes to accessing mental health care. Individuals who can't leave their home for various reasons, such as physical or mental illness, may find online therapy a practical alternative to traditional psychotherapy in an office.
For many people, online therapy is often more convenient. Since the person attends therapy sessions online or on the phone in the comfort of their own home or office, they can often schedule therapy sessions for times that are the most convenient for them.
Is Online Therapy Effective?
As more and more people are using online therapy, people ask "Is online therapy just as good as meeting a therapist in person?" The answer generally depends on what you need. Certain therapy methods can work where patients receive treatment remotely through newer technologies while others require you to work in person.
In most cases, online therapy can be equally as effective as in-person treatment. Here's what research has found about online counseling:
A 2014 study published in Behaviour Research and Therapy found that online cognitive behavioral therapy was effective in treating anxiety disorders.
A 2013 study published in the Journal of Affective Disorders found that online treatment for depression was equally as effective as in-person therapy.
A 2018 study in the Journal of Anxiety Disorders found that online cognitive behavioral therapy was equally as effective as in-person treatment for major depression, panic disorder, social anxiety disorder, and generalized anxiety disorder.
Another positive aspect of online therapy is that your therapist needs to be licensed in the state where you reside. For example if you're doing California online therapy or California online counseling, the therapist must be licensed in California. This helps to ensure that the therapist is working legally.
All California online therapists and other mental professional health providers must be licensed by the state in which they practice. Licensure laws protect consumers by ensuring only those who are trained and qualified to practice receive a license. It also ensures that you have some recourse in the event there are problems with your treatment. Before you sign up for any online therapy, find out who you are working with, if he or she has a license, where that license is held and the license number. Most states offer an online, searchable directory of professionals licensed in their state.
Does Insurance Cover Online Therapy?
Many insurance companies cover the treatment of mental health and substance abuse disorders—treatment that includes in-person psychotherapy. If you work with a therapist in their office, your insurance may cover most or all of the cost.
If you're paying for therapist out of pocket, the therapist will often provide an invoice that you can submit to your insurance company for reimbursement. But online therapy or web therapy services are often not covered or reimbursable by most insurance providers. If you plan to be reimbursed, check with your insurance company first. Otherwise, prepare to pay for the full cost yourself.
Today, many states require insurance providers to cover online therapy just as they would traditional therapy sessions. Contact your insurance company to learn more about online therapy will be covered by your policy. Online therapists often offer affordable treatment options for those who are not covered by health insurance.
In general, the internet makes mental health information more accessible. People tend to feel comfortable talking to a therapist as opposed to friends and family about their mental health. For people who want expert support and guidance, online therapy can be a great alternative.
Randi Fredricks, Ph.D.

References
Andrews G, Basu A, Cuijpers P, et al. (2018). Computer therapy for the anxiety and depression disorders is effective, acceptable and practical health care: An updated meta-analysis. Journal of Anxiety Disorders. 55:70-78.
Mallen, Michael J.; David L. Vogel (2005). Introduction to the Major Contribution Counseling Psychology and Online Counseling. The Counseling Psychologist. 33 (6): 761–775.
Mallen, Michael J.; Vogel; Rochlen; Day (November 2005). Online Counseling: Reviewing the Literature From a Counseling Psychology Framework. The Counseling Psychologist. 33 (6): 819–871.
Suler, J (2000). Psychotherapy in cyberspace: A 5 dimensional model of online and computer-mediated psychotherapy". CyberPsychology & Behavior. 3 (2): 151–160
Skinner, Ardiran; Zack, Jason (2004). Counseling and the Internet. American Behavioral Scientist. 48 (4): 434–446.
Tzelepis, Flora; Paul, Christine L; Williams, Christopher M; Gilligan, Conor; Regan, Tim; Daly, Justine; Hodder, Rebecca K; Byrnes, Emma; Byaruhanga, Judith; McFadyen, Tameka; Wiggers, John (2019). Real-time video counselling for smoking cessation. Cochrane Database of Systematic Reviews. 2019 (10).
Wagner B, Horn AB, Maercker A. (2013). Internet-based versus face-to-face cognitive-behavioral intervention for depression: A randomized controlled non-inferiority trial. Journal of Affective Disorders, 152(1).