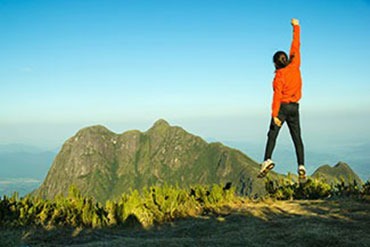 Just as suicide rates are spiking and a national conversation has begun on to how to fight depression, a disease that impacts 16 million adults in the U.S., more and more research shows that exercise may be a key weapon in the battle.
In fact, exercise may be just as crucial to a depression patient's good health as psychotherapy or finding an effective antidepressant.
Maintaining a healthy dose of exercise is difficult, but it can be done. It just requires more effort and addressing unique barriers to regular exercise. Depressed patients can often perform about three-fourths of the exercise they're asked to do. Here are some tops that can help to boost your chances of success:
Set aside a consistent time to exercise every day, but do not get discouraged by stretches of inactivity. Resume activities as soon as possible.
Keep a log to track progress.
Vary the exercises to avoid monotony. Keep the workout interesting and fun.
Exercise with a friend.
Task someone with holding you accountable for maintaining the exercise regimen.
These suggestions are just as relevant for younger age groups, in particular college-age adults who are just entering the workforce. This is the age where typically see physical activity drop off because they're not involved in school activities and sports.
The earlier you maintain fitness, the better chance of preventing depression, which in the long run will help lower the risk of heart disease. Depression has been linked to several other chronic medical conditions such as diabetes, obesity, and chronic kidney disease, which studies show can affect whether antidepressants are likely to help. For patients with these conditions, the more appropriate treatment may be exercise.
The important e of exercise for depressed patients has to do with the general health effects of physical activity, including the fact that exercise decreases inflammation that may cause depression. By reducing inflammation, the risk for depression and heart disease are lowered.
Of course, there is value to not starting a medication if it's not needed. Being active and getting psychotherapy are sometimes the best prescription, especially in younger patients who don't have severe depression.
Fitness is critical throughout the entire lifespan. The long-term benefits, and the connection between mind-body wellness, are significant. Fitness and physical activity is part of early prevention efforts in promoting healthy aging.
Randi Fredricks, Ph.D.

References
Rothon C, Edwards P, Bhui K, et al. (2010). Physical activity and depressive symptoms in adolescents: a prospective study. BMC Med. 8(32):1–9.
Demir R. (2016). Physical activity/environmental and social effects to exercise-PA barriers. Turkiye Klinikleri J Physiother Rehabil-Special Topics. 2(1):141–145.
Saeed SY, Antonacci DJ, Bloch RM. (2010). Exercise, yoga and meditation for depressive and anxiety disorders. Am Fam Physician. 81(8):981–986.
Mammen G. (2013). Physical activity and the prevention of depression: a systematic review of prospective studies. Am J Prevent Med. 45(5):649–657.
Lindwall M, Larsman P, Hagger M. (2011). The reciprocal relationship between physical activity and depression in older European adults. Health Psychol. 30(4):453–462.
Oeland AM, Laessoe U, Olesen AV, et al. (2010). Impact of exercise on patients with depression and anxiety. Nord J Psychiatry. 64(3):210–217.
Eldomiaty MA, Almasry SM, Desouky MK, et al. (2017). Voluntary running improves depressive behaviours and the structure of the hippocampus in rats: a possible impact of myokines. Brain Res. 1657:29–42.
Ranjbar E, Memari AH, Hafizi S. (2015). Depression and exercise: a clinical review and management guideline. Asian J Sports Med. 6(2):240–255.
Chodzko-Zajko WJ. (2014). Exercise and physical activity for older adults. Kinesiol Rev (Champaign). 3(1):101–106.
Stanton R, Reborn P. (2014). Exercise and the treatment of depression: a review of the exercise program. J Sci Med Sport. 17(2):177–182.