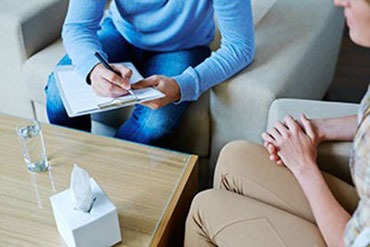 Counseling psychology is a form of applied psychology that is used by psychologists and psychotherapists to help people improve their lives. In practice, counseling psychology focuses on treating individuals with a wide range of emotional, behavioral, vocational, and social problems and disorders. It is one of the most common and widespread psychological specialties.
Counseling psychology was first recognized as a specialty within the American Psychological Association (APA) in the mid 1940s. However, counseling psychology has been since Sigmund Freud began practicing psychotherapy in 1886.
Because clinical psychology and counseling psychology are so similar, the two are often mistaken for one another. Although these two specialties have many commonalities, they have many differences as well. For example, counseling psychologists tend to treat individuals whose symptoms are less severe, such as people trying to learn how to cope better with stress. In comparison, clinical psychologists see patients with more serious psychiatric problems and tend to do more clinical testing and evaluation.
Today's Counseling Psychology
Today, the practice of counseling psychology encompasses a broad range of culturally-sensitive approaches that assist people in making positive changes in their well-being, alleviate distress and maladjustment, resolve crises, and increase their ability to function better in their lives. It now focuses on developmental issues and problems across the lifespan associated with physical, emotional, and mental disorders.
Counseling psychology has a unique perspective in the broader practice-based areas of psychology, even addressing spiritual issues. Transpersonal psychology is a sub-field or counseling psychology that integrates the spiritual and transcendent aspects of the human experience with the framework of modern psychology.
Therapy Used By Counseling Psychologists
Contemporary counseling psychologists practice a number of different types of therapy. One of the most common is person-centered therapy based on the work of Carl Rogers. This type of therapy focuses on the patient's individual life experiences. In person-centered therapy, the psychologist listens to and empathizes with the patient. By doing this, the psychologist can then help guide the patients toward positive and lasting change.
Another type of therapy that is one of the most popular and effective forms of treatment in counseling psychology is cognitive behavioral therapy (CBT).  CBT is used by cognitive psychologists who focus on identifying and understanding the client's negative beliefs. The client and the psychologist then work towards changing these beliefs with the goal of improving the person's mood and emotions.
In an effort to help their patients, counseling psychologists usually have a warm and comfortable office where they hold their sessions. They need to build rapport with their clients by being empathetic and non-judgmental. A client must trust their therapist in order to feel free opening up to them.
Once a therapeutic relationship is established, the counseling psychologists encourages the client to talk about their feelings and behaviors, asking questions to gain clarity. By getting to know their clients in this way, the psychologist can then work to help the person to improve their situation and alleviate symptoms of their problems.
Randi Fredricks, Ph.D.

References
American Psychological Association. (2003). Guidelines on multicultural education, training, research, practice, and organizational change for Psychologists. American Psychologist, 58, 5: 377-402.
Field TA, Beeson ET, Jones LK (2015). The New ABCs: A Practitioner's Guide to Neuroscience-Informed Cognitive-Behavior Therapy, Journal of Mental Health Counseling, 37 (3): 206–220.
Gelso, C.J., Williams, E.N. & Fretz, B. (2014). Counseling Psychology (3rd ed.). Washington, D.C.: American Psychological Association.
Heppner, P. Paul 2006 The Benefits and Challenges of Becoming Cross-Culturally Competent Counseling Psychologists: Presidential Address. The Counseling psychologist, 34, 1: 147-172.
Hohenshil, Amundson, & Niles (2013). Counseling Around the World: An International Handbook. Alexandria, VA : American Counseling Association.
Rogers, C. (1975). Empathic: An unappreciated way of being. The counseling psychologist, 5(2), 2-10.
Tags: American Psychological Association, Counseling Psychology, Sigmund Freud, Therapeutic relationship